Speak The Builders Language
If you are having home improvement work done in your house by a professional contractor, how is your relationship with them?
I know from my own personal experience that you can go on a rollercoaster ride of emotions dealing with the plumbers, joiners, electricians and decorators that you let loose on your home and it is not always easy to communicate effectively with them if you are no expert yourself.
When it comes to kitchen design you at least have a comprehensive drawing to work to, however if you don't fully understand how to read the plans this can be a difficulty in itself.
Don't be afraid to ask if something is not clear, and don't be made to feel stupid if you don't know something which they think should be obvious – remind yourself that they probably couldn't do your job either!
The best way to avoid problems going forward is to make sure you are happy with all the details of the project in your own mind before the work commences. Don't breathe down the builders necks but make sure you are available to answer questions and keep in touch with the progress being made.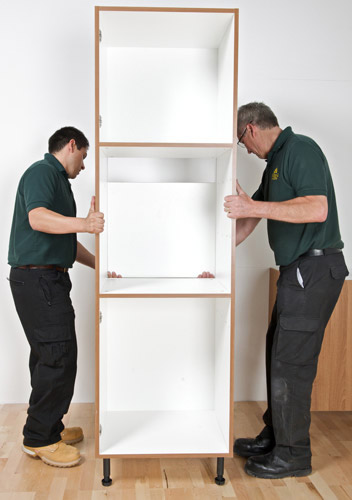 It is important to build a good, communicative relationship with your contractors but try not to act like their best mate – if a problem occurs it will be much harder to take them to task.
Hopefully you won't have any issues but if you do, for example the kitchen worktops are badly fitted, then be confident in what your own eyes are telling you and calmly ask what the plan is to rectify the mistake.
The best way to avoid any trouble is to employ people who you trust will do the best job, so ask friends and family for recommendations and follow your gut instinct. If all else fails a steady supply of mugs of tea and bacon sandwiches are always a safe bet!